Flos Flagship Store, Milano
Flos | Interior | 2019

Aperto nel 1968, a pochi anni dalla fondazione dell'azienda, il monomarca Flos progettato da Achille e Pier Giacomo Castiglioni occupava il piano terreno di un edificio al numero 9 di Corso Monforte, costruito tra il '63 e il '66 da un altrettanto illustre architetto milanese, Luigi Caccia Dominioni.
I lavori di restyling non si sono limitati alla sola ristrutturazione dello spazio storico al piano terreno: il negozio, infatti, ha acquisito anche l'intero piano superiore e il piano interrato, triplicando la superficie complessiva degli spazi di vendita.

•

Opened in 1968, just a few years after the company was founded, the Flos retail store, designed by Achille and Pier Giacomo Castiglioni, occupied the ground floor of a building located in the central Corso Monforte, at number 9. The building was constructed between 1963 and 1966 by an equally illustrious Milanese architect, Luigi Caccia Dominioni.
The restyling is not merely limited to renovating the historic space on the ground floor: the entire upper floor and the basement were also added, tripling the total surface area of the retail space.
L'intero negozio è stato concepito come uno spazio flessibile e mutevole che assume il ruolo di vero e proprio strumento di comunicazione del brand, di supporto e complementare ai canali digitali istituzionali. Spazi reali e spazi virtuali si fondono e si integrano: il negozio non è più solo un punto vendita dove esporre i prodotti, ma uno spazio in continuo aggiornamento, in linea con la velocità della comunicazione contemporanea, dove i contenuti sono tenuti costantemente vivi e mutevoli, proprio come in una bacheca digitale, con l'obiettivo di rendere più completo e coinvolgente il rapporto del visitatore con l'oggetto.

•

The store has been conceived as a flexible and changing space that becomes a real communication tool for the brand, supporting the company's digital channels. These days real and virtual spaces blend and integrate with one another. It was this very concept that was the basis for the design: no longer a traditional retail store where products are simply on display, but rather a space that is constantly being updated, keeping pace with the speed of modern communication, in which content is always alive and changing, just like on a social media wall, the objective being to make the relationship between the visitor and the object more complete and more engaging.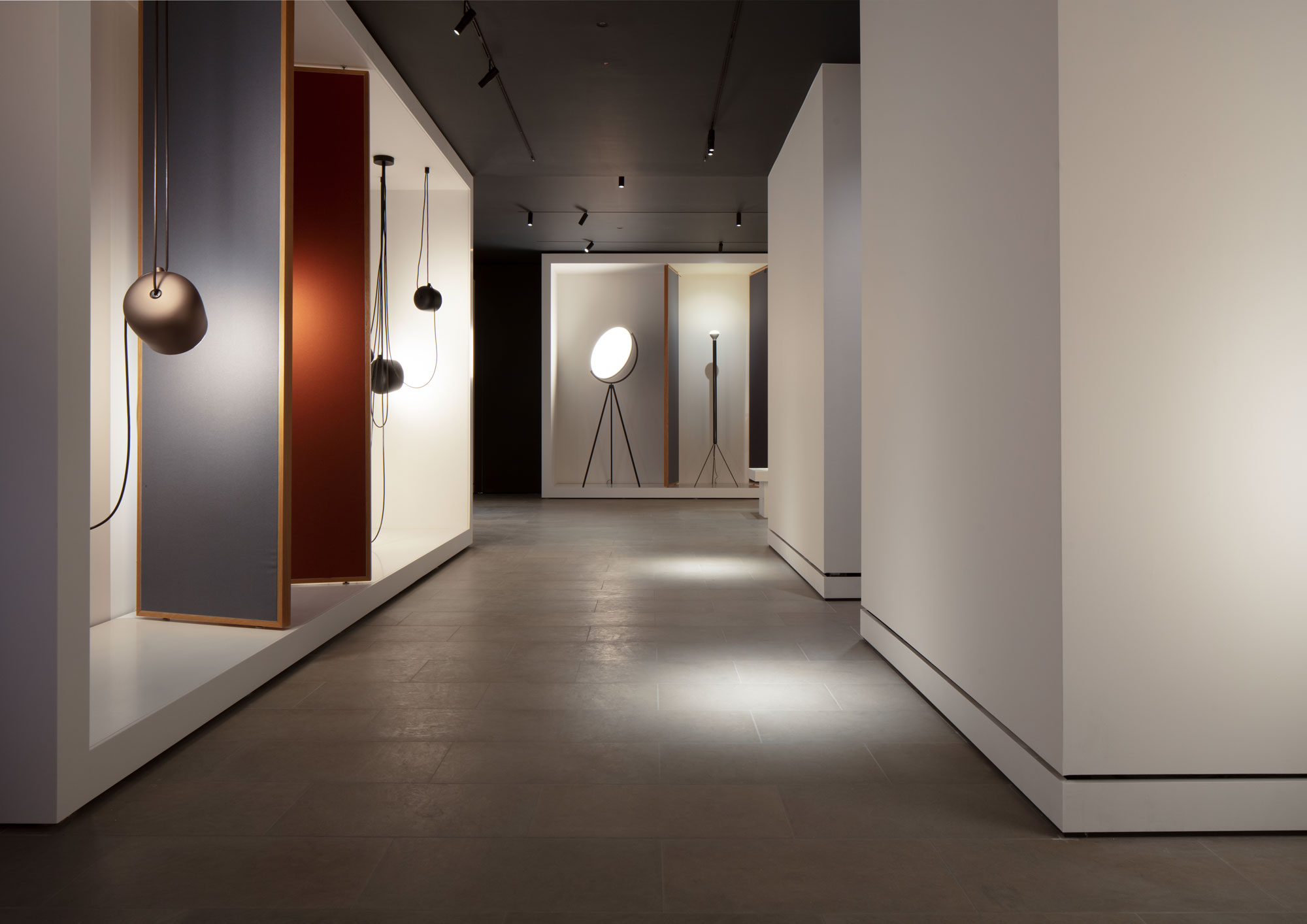 Il sistema espositivo è formato da un sistema di pannelli flessibili bifacciali da inserire all'interno degli espositori per creare quinte o micro-ambientazioni per le diverse tipologie di lampade da tavolo, da terra e da soffitto. I pannelli, che hanno cornici in legno di rovere naturale, possono essere facilmente e velocemente variati nella configurazione, colore o finitura, con una scelta di rivestimenti diversi in tessuto, a seconda del prodotto che dovranno valorizzare.

•

The product display system comes up with a series of flexible, two-faced panels to be inserted within cases to create wings or micro-environments for table, floor, and ceiling lamps. The configuration, colour, and finish of the panels, which have natural oak frames, can be easily and quickly changed with a selection of various fabric coverings, depending on the products that they will showcase.